Not everyone can easily visualise their project from detailed drawings. That's where a 3D model can really help our clients really get inside their project and it's design. We are able to prepare not only static 3-dimensional building models of projects but also create fly around and walk through video's from these models. This really helps our clients gain a true impression of how their new project will look insitu.
To find out more information about iK Building Design Ltd or for initial help and advice please get in touch today by using our
enquiry form
or calling:
T : 01527 831931
or
M : 07779 117294
BY POST
iK Building Design Limited
4 Granary Road
Bromsgrove
B60 3QH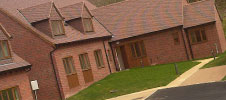 Please take a moment to look at some past examples of our work.
Private Development
7 plot development of 6 bedroom houses.
>>View gallery
Wiltshire Development
20 plot development of 2, 3 & 4 bedroom houses.
>>View gallery
Swindon Development
16 plot development of 2 bedroom apartments.
>>View gallery

Herefordshire Development
5 plot development of houses.
>>View gallery

Gloucestershire Development
17 plot development of houses and apartments
>>View gallery
Extensions
Various extension projects.
>>View gallery
Example Drawings
Various housing developments.
>>View gallery