If you are considering a home extension project or loft conversion project, for an extension to your home that will increase its value in Bromsgrove Redditch, Kidderminster, Birmingham or anywhere else in the West Midlands or Worcestershire call 01527 916043 and talk to iK Building Design.
We design house extension plans with the clients' needs and wants in mind and can help you with your house extensions, planning application and building regulation application.
We design all types of extensions, a loft conversion, kitchen extension, lounge extension, single storey extension, two storey extension, all our extension design drawings are prepared using 2D AutoCAD computer drawn plans. We also carryout 3 dimensional building modelling of your project to provide you with a walkthrough video.
Please feel free to contact iK Building Design for all your house planning and design services. We can deal with all your Planning Application and Building Regulation Application problems. Planning and designing a house extension or planning and designing a residential development, both are treated with the same Client importance.
iK Building Design will:-
▪
Meet you the Client and discuss your proposals
▪
Provide you with a Fee proposal
▪
The above work is free of charge
▪
Carry out a measured survey of the existing building
▪
Prepare a design proposal, discuss and agree this with you
▪
Prepare and submit the Planning Application to the Local Authority
▪
Obtain Planning Consent
▪
Prepare Building Regulation drawings
▪
Submit the Building Regulation application to the Local Authority
▪
Obtain Building Regulation Approval.
▪
Maintain constant dialogue with you and the Local Authority during the course of your applications
To find out more information about iK Building Design Ltd or for initial help and advice please get in touch today by using our
enquiry form
or calling:
T : 01527 831931
or
M : 07779 117294
BY POST
iK Building Design Limited
4 Granary Road
Bromsgrove
B60 3QH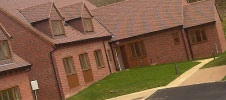 Please take a moment to look at some past examples of our work.
Private Development
7 plot development of 6 bedroom houses.
>>View gallery
Wiltshire Development
20 plot development of 2, 3 & 4 bedroom houses.
>>View gallery
Swindon Development
16 plot development of 2 bedroom apartments.
>>View gallery

Herefordshire Development
5 plot development of houses.
>>View gallery

Gloucestershire Development
17 plot development of houses and apartments
>>View gallery
Extensions
Various extension projects.
>>View gallery
Example Drawings
Various housing developments.
>>View gallery