iK Building Design is owned and managed by Ian Keay. Ian has over 30 years design and technical experience in the Residential sector of the Building Industry. Ian began his career with 12 years in private practice. From here he moved into design and technical management for a number of Residential developers in varing sectors ranging from high end executive homes through volume build houses to city centre contemporary apartment developments gaining valuable experience in the level and format of information required by a housing developer.
To find out more information about iK Building Design Ltd or for initial help and advice please get in touch today by using our
enquiry form
or calling:
T : 01527 831931
or
M : 07779 117294
BY POST
iK Building Design Limited
4 Granary Road
Bromsgrove
B60 3QH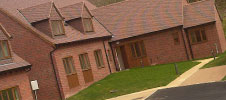 Please take a moment to look at some past examples of our work.
Private Development
7 plot development of 6 bedroom houses.
>>View gallery
Wiltshire Development
20 plot development of 2, 3 & 4 bedroom houses.
>>View gallery
Swindon Development
16 plot development of 2 bedroom apartments.
>>View gallery

Herefordshire Development
5 plot development of houses.
>>View gallery

Gloucestershire Development
17 plot development of houses and apartments
>>View gallery
Extensions
Various extension projects.
>>View gallery
Example Drawings
Various housing developments.
>>View gallery